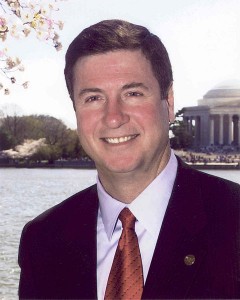 George Allen is back and on top of his game! Allen participated in a C-SPAN video conference with students from George Mason University and The University of Denver to discuss his upcoming Senate run and his new book "What Washington Can Learn from the World of Sports."
I was one of the lucky students who had the chance to personally talk to Allen and ask him a question, "You have mentioned numerous times that Thomas Jefferson is one of your biggest role models; what similarities do you see between yourself and him?"
He mentioned that besides the distinct title of holding Thomas Jefferson's seat in the Virginia General Assembly, he admitted he is a self-described "Common Sense Jeffersonian Conservative."
This formidable opponent opened up about his campaigns strategies to reach out to the community.
They are using:
Like I mentioned above, Allen's book came out in 2010! One of the chapters in his book, which is relateable in his political life, sports life, and family life is: Defense Wins Championships.
Solid conclusion.
As related to online journalism, Allen ended with "The internet is the best invention since the Guttenberg Press". I could not have out it any better, Mr. Allen.