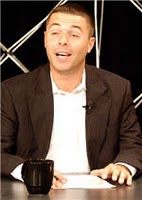 Mason Alum! It's not just basketball; B.J. Koubaroulis is continuing to make the Patriots look good!
"A Washington Post sports writer/producer and CEO of Synthesis Multimedia Productions/Koubaroulis LLC," Koubaroulis' twitter biography defines him.
He gradated GMU in 2004, "Like everyone, you expect to be covering the Yankees, and then you realize you're covering High school JV girl's lacrosse; kind of heart breaking. You start from the bottom but that's how you learn," said Koubaroulis.
Regarding his company, Synthesis Multimedia Productions, Koubaroulis said, "We go to a game and produce a package from the game. A lot of people can produce video, but what makes us unique is the fact our game packages are ready in two hours."
Ask the Caps! BY THE WAY, The Washington Post'snew hot niche is a media ploy where readers can submit questions to players of the Capitol's. Guess who hosts the three minute video? Koubaroulis does! Check it out, Matt Bradley, answers!
He urged his fellow Patriots to learn these different aspects of multimedia journalism. "Anybody can do what we've done. You just need to buy to equipment. It doesn't have to be expensive. Get something cheap off of Craigslist," Koubaroulis said.