Entries Tagged as 'social media'
April 18th, 2011 · Comments Off

on Baby boomers: booming into the Internet scene
You're a young college student who has grown up with technology. You know Microsoft Word, Google, and social media outlets such as Twitter like the back of your hand. The Internet has become second nature to you and you can't imagine how anybody would have trouble to adapting to it. You also can't fathom your parents making use of such outlets, nor do you think they deserve to use such outlets. Your mother creating a Facebook? Pfft! That's ridiculous.
If you are like many young adults, however, dooms day has come and you too have received a Facebook friend request from your mother, father, or even grandparent. According to Jamie Carracher's article "How Baby Boomers Are Embracing Digital Media" for Mashable.com, encounters with the +40 population on the web are not going away anytime soon, in fact they are increasing. As Carracher cites, "social network use among Internet users 50 years old and older has nearly doubled to 42 percent over the past year."
So why is there this proliferation of baby boomer web use? Why are more and more elders embracing smart phone technology? In his article Carracher offers the following answers:
Baby boomers can connect with friends and family in ways that seemed unfathomable. Rather than having to call a son or daughter on the telephone or ask a child to mail pictures to them, baby boomers can email the children or look at their photo albums on Facebook or on album sharing websites such as Picasa.
Baby boomers appreciate the mobility and convenience that comes with devices such as Blackberries and iPads. When adults were in college they were most likely using typewriters to produce papers and using telephone booths to call colleagues when they were away from land lines. With the use of smart technology, adults can now contact family and friends, search the web, and take photographs or videos with one simple device.
Baby boomers realize the benefits of search engines and the incredible amount of information that is at their fingertips through the Internet. Career adults, or any adult for that matter, love the fact that they can find the information they need through a simple Google search. If a career professional needed to find out about school cancellations for his or her children, he or she could perform a simple Google search rather than having to call the school the child attends.
As can be seen from Carracher's list, baby boomers see many of the same benefits of Internet use as we do. So what does their adoption of this medium mean to us? What should we consider when making an Internet that is easy for both the young and the old to use? We should think about the following when taking on this task:
The adult population on the web is only going to continue growing. "Don't ignore them."
Making the web easy for individuals who are not tech-saavy without being insulting. "We need to make sure we are building it to empower everyone."
How accessible the website is. Can adults with poor eyesight and a hearing aid take advantage of a web page the same way a college student with 20/20 vision and perfect hearing can?
How we can educate elders on technology use. Baby boomers are not as tech-savvy as we are and there would be severe consequences if they fell in to the "digital divide."
Rather than shunning adult use of the Internet, we should embrace it. Even better, we should partake in a sort of "community service" and help them understand the medium. If we do that, we can all live harmoniously and enjoy the great power of the Web together.
Follow Jamie Carracher on Twitter.
April 12th, 2011 · Comments Off

on Mark Stencel
Mark Stencel came to speak to my class:
Doesn't use the term new media because he's been working with it for 16 years
Gave us an intro on NPR.
NPR's national audience on the radio is growing when may other outlets are losing theirs. They're doing a lot of experimenting with trying to find the right way to tell a story to their audience.
But their problem is a lack of online audience. They hired a lot of print journalists to do site.
Social media is one way they are trying to reach out to followers
Ethics are important to think about now so when you're confronted with something then you know what to do.
April 8th, 2011 · Comments Off

on How social media would have affected 9/11/2001
LA Weekly blogger Alexia Tsotsis examines how social media would have influenced reactions to the September 11th attacks in the article "What would 9-11 be like in the age of Social Media."
She explains that, "our real-time communication platforms would provide crucial information on survivors and those looking for loved ones, as Craigslist did after Hurricane Katrina."
By using social media platforms such as Twitter or Facebook, people would have quicker access to a multitude of information relating to the crisis. According to Tsotsis, social media outlets would have allowed for:
Multimedia from those inside the World Trade Centers. If the attacks had taken place during 2010, office workers would have been able to tweet about what was going on and post pictures of the impending disaster. Even more importantly, they would be able to post video that would capture the true horror of 9/11. Had they had iPhones and other sorts of technology, we would have been able to more clearly understand the reactions of those inside the building, rather than just imagining it through the reactions of spectators.
Videos from passengers on the planes. If we had the level of cellular device use that we have today, we would have hundreds of videos of passengers on the jets that crashed in to the twin towers. We would be exposed to a plethora of videos of passenger reactions and maybe even videos of the terrorists as they hijacked the planes.
"More myths, and quicker mythbusting." With the use of Twitter or Facebook anyone and everyone would be able to post their opinions or their encounters during 9/11. We would have more exposure to conspiracy theories and exposure to people claiming that the Bush administration knew about the attacks all along. We would also, however, have access to people arguing that the 9/11 attacks were not an inside job and that Bush and his advisor's had absolutely no knowledge of these attacks.
More opinions. After Bush declared war on Iraq, Americans would have been faced with a flood of tweets that both supported and opposed the war. On the extreme, conservative side, some might say, "lets show those Jihad terrorists what America's made of." On the more peace-loving side, however, tweets might say, "peace in the Middle East not death showers and bombs."
There is no denying that the American reaction to 9/11 would have been entirely different if Twitter and Facebook had been around. We would have access to an unprecedented amount of information from an unbelievably huge amount of people. Along with just being exposed to more personal encounters, and being able to find information more quickly, we would also be exposed to international opinions of the attacks. It is very apparent that if we were able to decipher the sound from the noise in the world of social media, we would have had a much better, unbiased understanding of the devastating attacks on that infamous September day.
Follow Alexia Tsotsis on Twitter.
Follow LA Weekly on Twitter.
April 7th, 2011 · Comments Off

on Guest Speaker: BJ Koubaroulis
BJ Koubaroulis, former George Mason University student who graduated with a B.A. in Communication in 2004, spoke to our Comm. 361 class on March 31. He currently works a a sports writer at The Washington Post.
Copyright: wjmc.gmu.edu
The first thing he spoke about was how "you'll start from the bottom and work your way up: that's how you learn." While it may seem like an obvious statement, it's easy to forget that the only way you're going to learn is by making your mistakes NOW instead of when it REALLY matters.
He recommends working at a small paper to give you an opportunity to 1) learn and 2) make your mistakes.
Going along with that, he said he learned the most at his internships and the small newspapers he worked for.
He explained how he fell in love with high school sports and actually enjoyed it the most out of all his sports coverage for three reasons: 1) Most access, 2) Most real people, and 3) The people actually enjoy speaking to you.
He then spoke a lot about video. That words seems to keep appearing. He explained how video has been a life changing experience for him. He explained how individuals can harness the power of video, whereas before media companies were needed to utilize video. ANYONE CAN DO IT.
Video allowed him to become a better writer. If that's not reason enough to learn video, then I don't know what is.
He then explained how everyone should learn:
How to use the Web
HTML
Social media
Video
Audio
Pictures
And with that he had this to say about journalism today: "It's just one job now. Everything is intermixed."
"If you're not going to change, you're just going to get left behind."
"Do all of it, don't limit yourself."
He then ended his presentation with FOUR things every journalist should have:
Camera
Computer
Microphone
Be ready to work!
In conclusion, he also showed us a REALLY cool website that incorporated all the things he's talking about. It is an interactive website of George Mason University's Fairfax campus. Check it out here.
March 31st, 2011 · Comments Off

on Zombie Journalism: 'Interacting with the audience as a news brand'
Using social media to talk to an audience is what this blog post was all about.
Mandy Jenkins had some interesting tips.
Here are my thoughts on them:
Responding — I know you're always supposed to respond. I hadn't really thought about direct messaging someone other than getting their contact information. Although this is kind of difficult when doing it just because you're shy about talking to them because in order to direct message someone, you have to follow them.
News tips — I knew that after you get a tip from someone you should verify it with them and re-tweeting it afterwards.
Ask for help — Asking your followers for media about a scene works if you have a large audience. I don't really have one. Sometimes this has worked for me, especially when it was a current issue like when I was researching DC Fashion Week or GMU football.
Be thankful — Give credit when credit is due. You can do this on social media sites and within your story or multimedia.
Questions – It makes sense to respond as quickly as possible since everyone expects instant contact. It'd be polite to tell them if you were finding someone to answer their question.
Criticism – I didn't think you should always address it, even to say if you are passing it on but it makes sense. So does not getting into fights and going offline if it goes to far.
Corrections – I was surprised at how you should correct a factual error in a tweet. Instead of deleting the tweet, you should correct it in a follow-up tweet.
Start the conversation — Asking questions to your followers sounds a little silly if you feel like you have none but adding a hashtag can help people find it.
Responses – I didn't think of re-tweeting a good response with a link with what it's about it.
March 27th, 2011 · Comments Off

on Chapter ten: Managing news as a conversation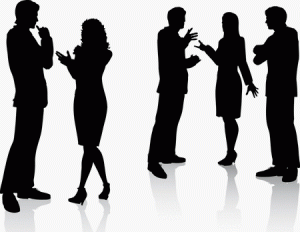 One of the greatest challenges journalists face today is learning how to manage a news conversation. According to Mark Briggs, this begs three questions:
How do journalists participate in the conversation without sacrificing their objectivity or credibility?
What about legal and ethical issues now that everyone can publish anything they want on a professional news site?
And what happens when you really want the audience to participate, but they don't?
News conversations have changed drastically over the past few decades. What once was a lecture is now an interactive conversation. Journalists require feedback and encourage discussion among readers and viewers.
What are some ways that online journalism has allowed for user participation?
Comments: That little box on the bottom of every story that allows you to type your thoughts on the story allows journalists to receive feedback.
Discussion forums: These discussion forums range from topics such as politics to fashion to sports. They allow the media to keep up with how the conversation is going among the public.
Social networking: Websites such as Facebook and Twitter have been critical in listening to conversation among the public. Believe it or not, when you write a status update about Joe Smith, Joe Smith is out reading it.
Sometimes it can be difficult to monitor such conversation when people become outraged and nasty. All communication is not good communication. But remember to take everything with a grain of salt and try to learn from everything, even the negatives.
Happy reading folks.
March 20th, 2011 · Comments Off

on Briggs 10: The Socialization of News
THE DIGITAL AGE has socialized news, which means that the people who read the news are now the people who also take part in it. "[...] information wants to be analyzed, shared, synthesized, curated, aggregated, commented on and distributed. Even journalists feeling overwhelmed by new technology can see that more interaction with the audience carries big benefits."
There are, however,  problems with having your audience be a part of your writing: News commentators are generally not constructive or respectful and there are either too many or too few of them. Forums are evolving, however, so that newsrooms are accepting more responsibility for the comments, commentators expect more from each other, and technology is improving.
It's not just on a News websites page that this occurs either, it is also social media websites such as Facebook and Twitter which provide feedback from readers. Lending socialization to other sites has created more sources for News.
Social media is the next big thing and any organization or journalist that ignores this fact will be left behind; you always need to be where your audience is and social media is where they are today.
March 10th, 2011 · Comments Off

on NAMI Northern Virginia history project
This is our mindmeister map for NAMI Northern Virginia history project.
Our project's goal is to recover NAMI Northern Virginia history and present it interactively. We will conduct interviews with past board members, do research about the institution, and gather information about its history. We will be using different online platforms to organize and present the information.
Our project will be constructed around an interactive timeline. We'll be using dipity to create it. We're planning to use YouTube to post our videos, but they're also will be linked to the timeline.  We will use batchgeo to create a Google map, and point the locations and programs offered by NAMI Northern Va. The map will be linked to the timeline. Slideshows, scanned documents, and other images will be also linked. We will use social media to disseminate the information we produced, and to reach out to NAMI NOVA established audience.
As group leader, I'll be responsible to get in touch with our contact, Jeanne Comeau (NAMI NOVA's board president), and keep her updated on the project. I'll be scheduling interviews with past board members, and overseeing every part of the project. It's my role to give video and photo support. I'll also be responsible for the use of social media in the project. We're planning to use our twitter account to reach out to potential project contributors, and to get the word out about our project. I'll be responsible for the project blog, updating it weekly. We might use storify by the end of the project, and I'll be in charge of that too.