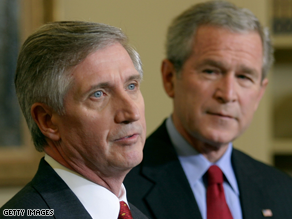 "He faced unprecedented challenges," explained Andy Cards, when asked about Bush's 2000-2008 presidential terms during a C-SPAN video conference on April 7, 2011 with college students.
Cards, a close friend of the Bush family since his time at the Republican National Committee, served as chief-of-staff for President George W. Bush from 2001 to 2006. Both he and President Bush came into office without high expectations because the economy and national morale were not as high as they had been in the past.  Because of Bush's "courage to make tough decisions," however, they were able to "restore faith, confidence, and responsibility" in the American people.
The most memorable event that demonstrated Bush's powerful leadership was September 14, 2001 when he spoke about the Al-Qaeda attacks on the World Trade Centers in New York City and the Pentagon in Washington, D.C. He remained "cool, calm, collected and objective," and "tried very hard not to allow emotion affect his decision making." He knew that it was his duty to preserve, defend, and protect the American people, despite how unique and lonely that responsibility is.
Cards ended the conference by explaining how history will evaluate Bush's presidential terms. He said that Bush would leave a legacy in the War in Iraq because he "brought democracy to that land, which was a very important contribution to that country. He also declared "history will be kinder [to Bush] than current events."
Watch the full video conference at C-SPAN.com.